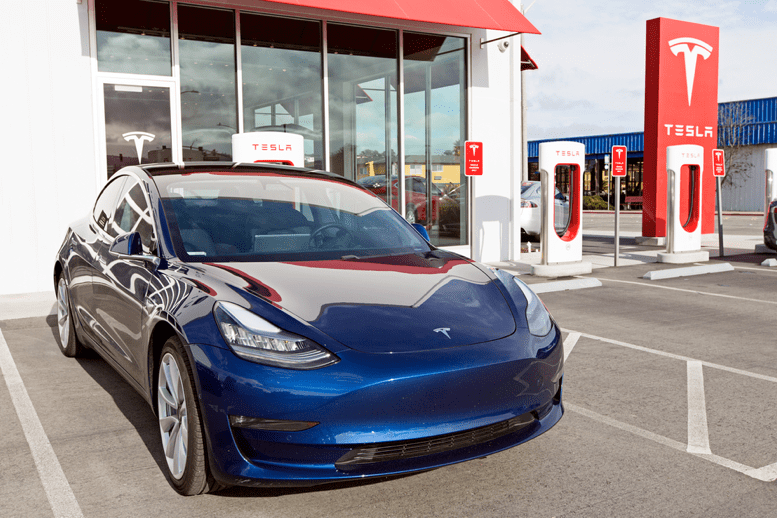 One month ago, Tesla (NASDAQ:TSLA) released its more economically priced Tesla Model 3 in Europe. A few short weeks later and sales have been good. So good, that the car is becoming the best-selling car in several countries across the continent.
Tesla Model 3 in Europe
Perhaps you predicted it, perhaps not; either way, according to Electrek, the Tesla Model 3 is taking Europe by storm. Norway, for example, is already waiting on "another shipment of over one thousand Model 3's." The first batch has already sold.
With more expected "any day now," the publication goes on to say that "the new electric vehicle is going to become the best-selling car in the country by a wide margin."
Further:
"In the first week of March, over a thousand new Model 3 vehicles were registered in Norway—three times more than any other car."
Europe
And that's just Norway. In Germany—which has been a difficult nut for Tesla to crack—Tesla sales have increased by over 500%. The country had over 1,000 Tesla Model 3s delivered.
A similar boost in sales is evident in France and Spain.
In the Netherlands, the Model 3 has beat out stiff competition from longtime bestsellers such as the Nissan Leaf. Selling 472 Model 3s already, the number is enough to make it the best-selling EV in the country.
>> Honda Motors Recalls Over a Million Vehicles Due to Deadly Airbags
According to InsideEVs:
"The voluntary dataset of orders placed in Europe indicates currently over 15,700 Model 3 (up from nearly 14,000 in early January), including over 4,900 in Norway and almost 3,000 in Germany."
Adoption
One significant reason the Tesla Model 3 is proving so successful has got to be its more accessible price tag. As the lowest priced car Tesla has yet to produce, it starts at a base price of $35,000 USD (roughly €31,000). It is aimed at the mass market for that reason.
The news is good not only for Tesla but for EVs everywhere, as it helps mass market adoption of the more eco-friendly vehicles.
TSLA stock is currently selling for $288.17 USD on the NASDAQ exchange, up 1.70% at the time of writing.
Are you a fan of the Tesla Model 3?
Featured Image: DepositPhotos © noblige