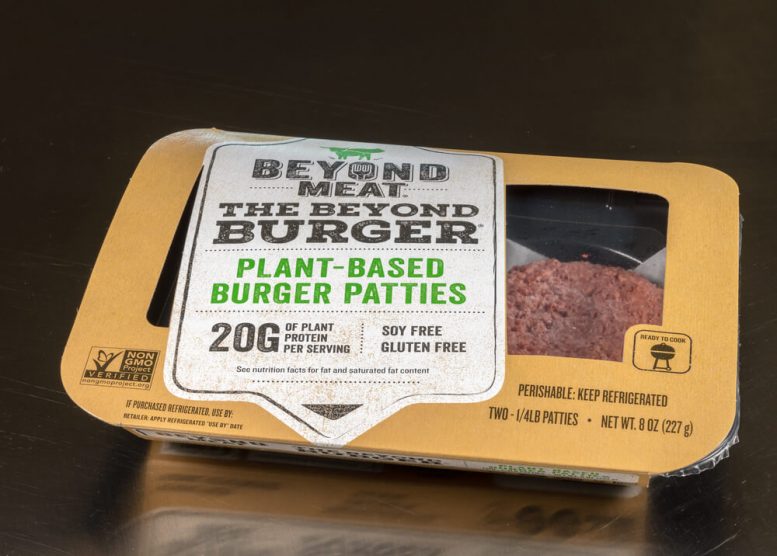 In 2019, a niche market truly came into its own. Yes, this year, the market for 'meatless meat' has erupted, already bringing sizeable gains to privy investors who predicted what was to come.
'Meatless meat' products have erupted not because they simply cater to vegetarians and vegans, but, crucially, because they cater to meat-eaters. It is the first of its kind in the food industry; the product developed by these companies is made from plants and is meant to taste like meat.
Meatless Meat: A Crucial Difference
That is the crucial difference between this niche market and the host of veggie burgers that have come before. This meat-free product tastes the same as meat, is marketed towards meat-eaters, and offers a healthier, animal-free replacement for regular meat purchases.
This vital difference has put sector leaders Impossible Foods and Beyond Meat (NASDAQ:BYND) on the map. And according to figures, the model is working; meat-eaters are happy to buy.
Environmental Impact
It's also worth considering the impact these brands will have on climate change. Meatless meat helps the environment on nearly every level, including land use, water use, and fighting climate change. For one, this type of product means far fewer cattle bred for meat consumption in the not-too-distant future. After all, livestock cultivation is one of the most greenhouse gas-intensive activities out there.
Currently, the niche is still too small to significantly change climate issues, but there's no denying that the wheel has started to turn.
>> TSLA Stock: New Chair Buys 1,000 Shares in the Lull
Let's look at the recent performance of the 'meatless meat' leaders to highlight the potential in this sector for investors.
Meatless Meat Leaders: Impossible Foods and Beyond Meat
The sector leaders both grabbed headlines this year. Impossible Foods infiltrated the fast-food sector by partnering with Burger King (TSX:QSR) (NYSE:QSR) to offer meatless Whoppers. The burger caused a frenzy, and the chain saw a footfall increase of 18.5% at the initial test locations. Burger King has since expanded the offering to most of its stores across the US due to demand.
The fast-food giant joins other restauranteurs White Castle and Qdoba in offering Impossible Foods products. The latter offers the Impossible Bowl and the Impossible Taco at all its US locations.
Beyond Meat has seen impressive distribution for its products too; Carl's Jr, TGI Fridays, A&W, and Del Taco all sell its burgers and meat.
Recently, Dunkin' Brands (NASDAQ:DNKN) announced its new Beyond Meat Sausage breakfast sandwich. Dunkin's market value initially jumped roughly $200 million as shares rose 1.5%, on the news. Meal-kit provider Blue Apron (NYSE:APRN) also announced the addition of Beyond's plant-based burgers to its kits. On this occasion, APRN shares traded up by 35%.
Akin to major restaurant distribution, Beyond Meat also enjoys astronomical success with its meatless meat available in more than 33,000 stores globally.
Meatless Meat Stock Growth
This success can be seen in the company's stock performance: since Beyond Meat's IPO, shares have soared. It's this simple: investors who bought shares at the $25 USD list price have already won; those same shares currently trade for roughly $196.51 USD. That's a growth of roughly 730% in only three months.
Impossible Foods has yet to list publicly, but there are rumors that it soon could. No doubt, if it does, it may easily mimic BYND's success. In the meantime, it has also been successful in terms of funding, raising an easy $300 million in more funding earlier this year.
>> Pinterest Stock Rockets 17% After a Blowout Quarterly Results
A Virtuous Cycle
Both companies are in the middle of a virtuous cycle that serves them well; consumers—more concerned with health and sustainability than ever before—demand the products, which generates publicity, which then fuels more customer demand.
And restaurants are keeping an eye on this growing consumer interest in meatless meat too. According to Ricardo San Martin, who studies meat alternatives at UC Berkeley, "companies have become more aware that this is here to stay." As such, they're placing their own orders. This continues the cycle by generating more publicity, which drives further consumer interest and, vitally, convinces other companies that the trend isn't dying anytime soon.
Meatless Meat Takeaway
All-in-all, there is a massive demand and growing market for meat substitutes, and now, according to Euromonitor, the global market for meat alternatives is estimated to reach $18.7 billion in sales by 2023.
Though it is early days for this industry-shaking product, it's clear to see that meatless meat has hit a nail on the head. It is a food industry disrupter, and this puts it in a hugely lucrative position for any investors looking at the future of food. It is one thing to bring something new to the market, but it is another thing entirely to bring something that disrupts the market.
This is what 'meatless meat' does, and investors should keep a close watch because this is not just a good idea, it's a $7.3 trillion USD industry game-changer.
Featured Image: DepositPhotos © steveheap