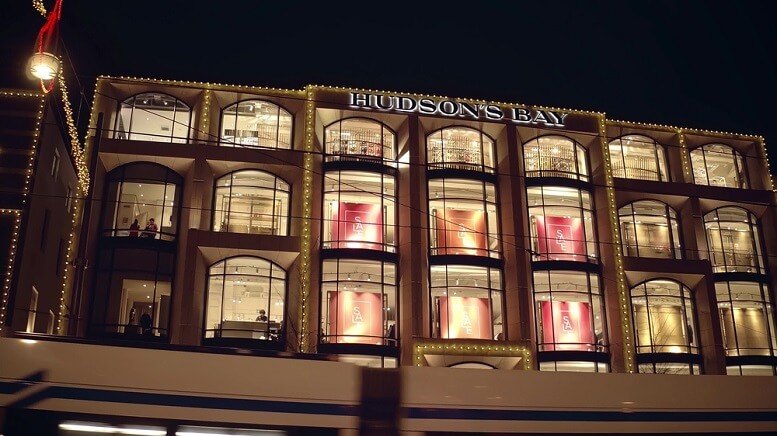 HBC stock is in the red today after Hudson's Bay Company (TSX:HBC) reported bigger than expected quarterly losses, and shareholders were advised to vote against a takeover deal that would see North America's oldest continuously operating company go private.
The Canadian department store reported its third-quarter results for the period ended November 2, which saw a net loss of $226 million CAD, a decline of 12.3% from the same period last year. Net loss came in at $161 million CAD, while the retailer reported sales of $1.84 billion CAD, down from nearly $1.89 billion CAD in the same quarter last year. The company has said that weakness in the luxury sector and sizeable markdowns have been driving factors in the poor results, which have led to a 3% decline in HBC stock today.
"Across the industry, there was a pullback among luxury consumers, allowing shoppers to more frequently take advantage of markdowns, which ultimately reduced full-price sales," Helena Foulkes, Hudson's Bay Chief Executive Officer, said in a statement. She added that "Strong digital sales, continued cost control and inventory management were not enough to overcome industry headwinds, softening in the luxury category and the challenge of winning back market share in Canada." HBC shares are currently trading for $8.78 in Toronto.
In October, Hudson's Bay Company agreed to a $1.9 billion CAD privatization deal with a consortium led by its current chairman Richard Baker. The investment group said it will buy back the remaining 43% of HBC shares that the company doesn't already own at a price of $10.30 CAD per share after an initial offer of $9.45 CAD was rebuked in June. However, influential proxy advisory service Institutional Shareholder Services (ISS) has advised shareholders not to take the deal.
>> NFLX Stock Falls as Needham Issues Bearish Notes
A rival offer at $11 per share had been tabled by Catalyst Capital Group, but this was rejected by HBC's committee because the group led by Baker do not want to sell their 57% stake in HBC stock. ISS has raised questions over the thoroughness of the sale process and if the agreed transaction maximizes value for minority HBC shareholders. HBC has responded by saying the ISS report is flawed and cites an acknowledgment by ISS that there is a meaningful downside to shareholders not accepting the deal.
If you're an investor interested in retail stocks, check out our pick of four retail stocking stuffers for the holiday season!
Featured Image: DepositPhotos © alexeynovikov