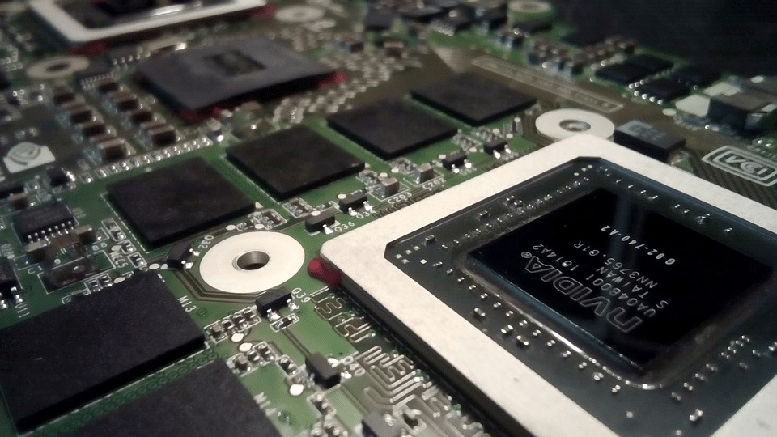 US chip-maker Nvidia (NASDAQ:NVDA) is having a bad day on the stock market. NVDA stock has dropped 15% in today's session after the company reduced its guidance.
What happened?
Nvidia
The tech giant has become the latest company to join the list of US firms facing revenue challenges in China.
As such, the company has warned investors to expect depleted revenue figures in its upcoming earnings report on February 14th.
Where Nvidia was expecting quarterly revenue of $2.70 billion, it has retracted that guidance and now expects $2.20 billion.
As the company announced the updated guidance, it cited "deteriorating macroeconomic conditions, particularly in China" as the main reason for the loss.
NVDA stock tanked 15% in response.
US Firms in China
Nvidia is not the only US company to face revenue challenges in China. Earlier in January, Apple (NASDAQ:AAPL) faced a similar fate on the stock market when it too cited poor sales in China as the reason for its reduced guidance. In that case, Apple dropped a staggering $55 billion USD overnight.
Construction machinery maker Caterpillar (NYSE:CAT) also blamed a lower demand in China in its earnings report this morning. Auto manufacturers have also noticed depleting sales in the Chinese market for certain brands.
>> Samsung Electronics Goes Green with Recyclable Plastics
The lack of demand is not just confined to the tech sector. More than likely this is the result of a turbulent year for trade for the US and China.
Nvidia Q4 Report
Nvidia pointed out that Q4 was a particularly rocky quarter. CEO Jensen Huang said in a statement:
"Q4 was an extraordinary, unusually turbulent, and disappointing quarter […] Looking forward, we are confident in our strategies and growth drivers. The foundation of our business is strong and more evident than ever."
It seems the news has had a knock-on effect across the chip sector as other major names are also down today: AMD (NASDAQ:AMD) is down over 7%. Micron (NASDAQ:MU) and Broadcom (NASDAQ:AVGO) fell 6% and 3% respectively.
As stated, Nvidia now expects quarterly revenue of $2.20 billion USD, down from previously stated guidance of $2.70 billion. NVDA stock is currently selling for $138.01, down 15% on the day.
Featured Image: Pixabay