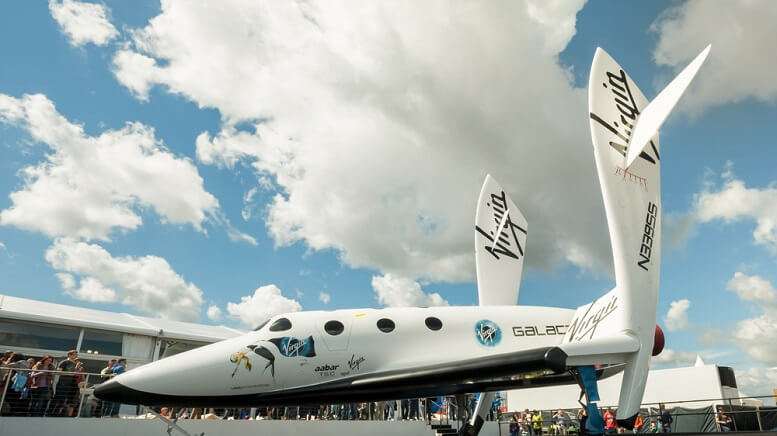 SPCE stock is flying high on Monday after Morgan Stanley initiated coverage on Virgin Galactic (NYSE:SPCE), saying that it could potentially gain over 700% in the coming years.
An $800 Billion Industry?
Morgan Stanley says that the potential for Virgin Galactic to disrupt the aerospace industry and further advance space tourism is substantial, and forecast $800 billion USD in annual sales for hypersonic travel by 2040. The brokerage firm set a price target for SPCE stock of $22, which would be a 160% increase on current levels, and gave it an overweight rating.
"A viable space tourism business is what you pay for today … but a chance to disrupt the multi-trillion-dollar airline [total addressable market] is what is really likely to drive the upside," Morgan Stanley analyst Adam Jonas wrote in a note to investors. "The shares feature biotech-type risk/reward where today's space tourism business serves as a funding strategy and innovation catalyst to incubate enabling tech for the hypersonic P2P (point-to-point) air travel opportunity." SPCE stock currently trades for $8.42.
SPCE Stock Drops Since NYSE Debut
Galactic began trading on the New York Stock Exchange on October 28, and SPCE stock has actually consistently declined in value since. However, analysts are clearly excited about the massive potential of Richard Branson's space tourism ambitions, and Jonas is not alone in his upbeat notes about the company. Last month, Sam Korus of ARK Invest said he was excited about Galactic's line of business and suggested that 2.7 million people might be willing to pay up to $100,000 USD for a long-distance hypersonic flight that shaves hours off the normal travel time.
>> AMD Stock Soars 36% in Two Months: What's Next?
Virgin Galactic is the world's first publicly traded space-tourism company, and it reported its inaugural earnings last month, which saw a loss of $138 million USD in the first nine months of 2019. By far, its largest expense—nearly $100 million USD—went to research and development, which is, of course, inevitable given the truly groundbreaking nature of the project.
Featured Image: DepositPhotos © nelsonart